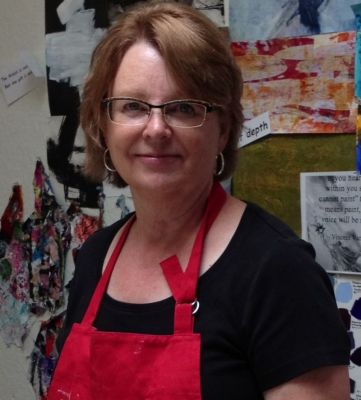 Maggie was a little girl who loved crayons, and always stayed neatly within the lines. As she outgrew those coloring books there was never even a thought of making her own designs. She grew up out of touch with her creative side, enjoying looking at fine art but seeing it as something other people did. Her working life was spent in the very analytical and logical world of purchasing and inventory control.In researching art classes for one of her grandsons, she noticed a class, "Drawing For Those Who Think They Can't", and signed up on a whim. She was fully convinced she would show them she had no talent! But she did. More classes were taken. A love of drawing was exposed.
And then she took a painting class.
Maggie found it was the freedom of abstraction that really drew her in. Preferring to interpret rather than replicate what she sees, or just making it up as she goes - there's no more staying inside the lines!